AIRDATE: Tuesday June 28, 2011 at 11:30 a.m. EASTERN time
Throughout Ann Avary's interview of Seattle multihull designer Kurt Hughes, she kept to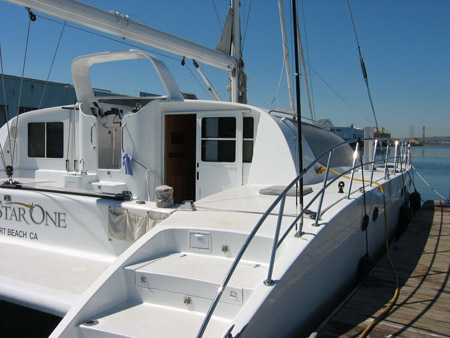 the theme, "Why multihulls?" With 30 years of design work to his credit, Hughes noted that it had been so long since he first made his initial comparisons that he couldn't really remember anymore. Still, as the conversation continued, he hit on points ranging from power-efficiencies to speed to cost to aesthetics. "Multihulls solve a lot of problems," he said.
Hughes also talked about his concept of "post-apocalyptic boatbuilding," saying, "That really came from my own post-recessions worries. Would I ever work again?" What he found though, was that he could help builders who were asking how to make substitutions in both materials and strategies. As a result, he assembled the information he had into one detailed article that appears on his website. And he knew he had hit on something good when Meade Gougeon called to say it was the best thing he'd ever read.
In comparing composites and marine plywood, Hughes knows the efficiencies and pros and cons of each, but to keep costs down, he's an advocate of wood and epoxy, or a fusion of wood and composites, including carbon fiber.
"We're still in the era where people want to be on the water," he said, "so how do they find a way to do that. What's the cost? Are composites cost-effective? The alternatives are plywood along or a fusion of wood and composites."
Clearly, Hughes was not talking about production. As a designer, he is most likely to be working with companies, or DIYers, who want to adapt his designs—primarily his multihull cruisers—as well as possible to their own needs. "They often buy a stock plan from me, and then we'll use 3D CAD to make the changes that they want."
A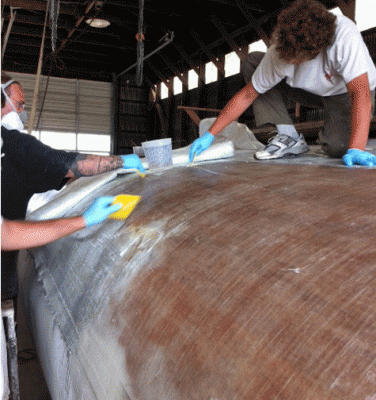 vary also asked Hughes about his multihulls that are becoming popular in Africa and India. He has partnered with EarthWise Ventures Inc., a company based in Everett, Washington, providing the design work for 10 ferries that will be servicing Lake Victoria, bordered by Uganda, Kenya, and Tanzania.
The vessels are being built in Washington, and then are shipped to Uganda. "They are uniquely designed for the situation on the Lake," he said. Of primary importance: Safely. Lake Victoria has seen 50 to 60 years of water tragedies, and these new 149-passenger ferries are unsinkable, and have met the necessary standards to be put in service. One is already there, and a second one is under construction.
As the project continues, Hughes will be working more with an African workforce, teaching them to vacuum bag on site as they move to build smaller boats in the same area. "We'll be seeing a lot of skillset transfer," he said. "Plus they will be able to use local plywoods and only import the epoxy and fiberglass. The next time I go there, we'll start sourcing woods."
Avary closed the interview by asking Hughes if he had any non-multihull projects in the works, and of course the answer was yes. At the other end of the spectrum, he's designed a cottage based on the lunar lander.
For more information, check Hughes's website and his multihull blog.